to procrastinate
to find some good reads ... when I found this
blog challenge
. Basically, the idea is to say five things about me - two of which are lies - and you all get to guess in the comments. After a few days, I'll tell you the answers and even a funny story or two about them.
(
Read more...
Collapse
)
I'd also love to hear five things about you!
A couple of days ago I finally finished the design for the Newsletter I was working on and I was looking at my TL on twitter
Mexico City was AMAZING. I know I say that every time I post about having been there, but it was! I did so many things and my work was so rewarding that there really isn't another way to put it and I feel an organic need to write about it.
After my last post, I did get to work and prepare my presentation for the next day. I was at the office in the morning, then got in touch with
wizardelfgirl
to drop off my suitcase and get on our way to the theater. It rained and we got a bit wet but it didn't matter because that show we caught was a premiere (we never figured out what the right word was for that in theater, did we,
wizardelfgirl
?) and so there were some reporters, some cameras, and we got autographs from the actresses and everything. The next day we planned a movie-a-thon and we watched The Lion King 3D, Green Lantern AND Midnight in Paris. We liked all of them a lot, but Midnight in Paris was special because we got to see that in a VIP theater: leather recliners, side tables, everything. At that point I told
wizardelfgirl
that the danger for me was that I was going to start thinking that was the way one was supposed to live (I actually phrased that as "getting used to the champagne lifestyle while having to live on an orange juice budget" on Facebook a couple of days ago).
The next day I had to take off really early because I was supposed to cross the entire city and get all the way to the north end, which took two and a half hours! The company put me in a hotel that was right next to a mall and a ten minute taxi cab ride from
this place
. It took a LOT of self control to limit my shopping to four items, but I managed it. I was out there for two days (out there in the area, not out there at the mall!) then I had to come back all the way south for three days to visit more schools. On Wednesday night I had cocktails with a friend, Thursday I went all the way to Santa Fé to see "God of Carnage", in what was the second to last appearance of Ludwika Paleta. On Friday I took my suitcase and went off to Puebla to visit
my best friend
. On Saturday we went to her niece's birthday party and then to
Los Sapos
. Browsing the different stalls, but not really meaning to buy anything, I met this guy:
I couldn't help asking to take his picture, the outfit was so glorious in detail. He agreed as long as I was with him in the picture and I ended up buying one of the hats he was selling.
After that, Susu and I met a friend/ex-boyfriend for coffee. You can see me wearing the hat in this picture.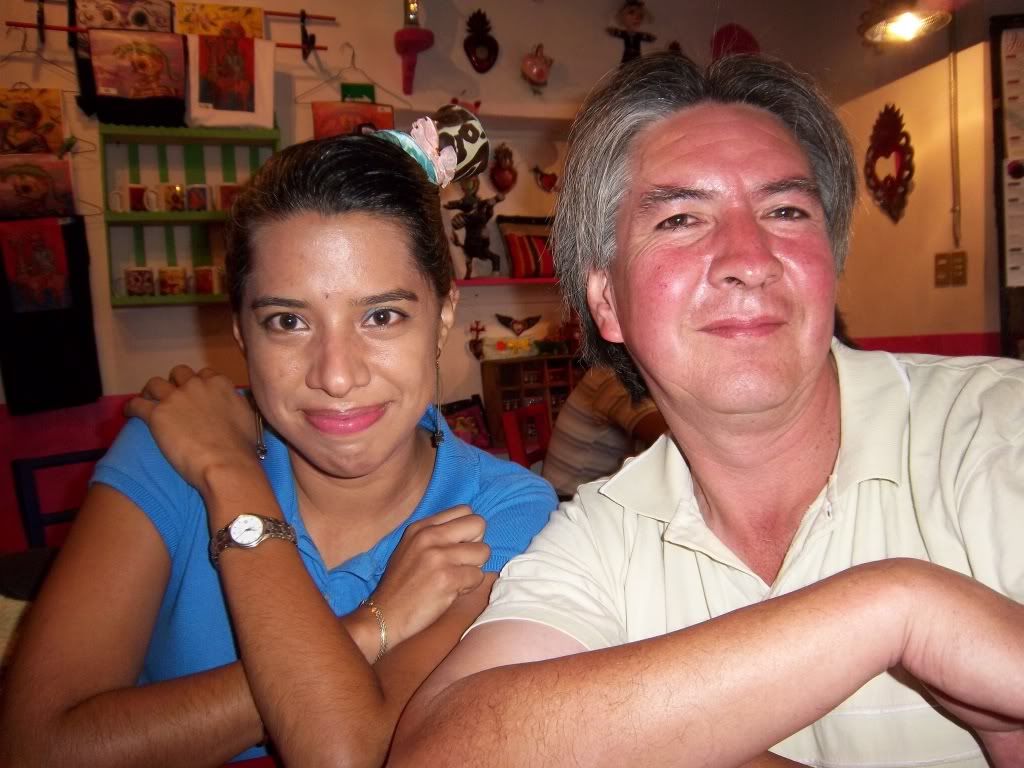 I had to be back in Mexico City at a reasonable hour on Sunday, so I didn't do much that day. For the last part of my gig I had to do a teacher training course in the state of Mexico, so the company found me a decent hotel, but in a rather dodgy part of Mexico City. I ended up having to go to
Indios Verdes
every day to get to work. I must confess that I was a bit scared at first (okay, A LOT... there's tons of people there, and it can be very confusing to get around there) but i somehow managed it.
wizardelfgirl
joked the other day that by now I know Mexico City and the surrounding areas better than she does =P
This part of my stay was hard because I was in an area that I did not know at all and so the first few days all I did was get holed up in there and watch TV from 6 p.m. till whenever I fell asleep - which had a negative effect in my state of mind. Eventually I plucked up the courage to venture (and get lost three times!) around and find places I could
go on shopping sprees
kill time for a bit.
When Saturday rolled around, I was ready to do some exploring and so I went to Teotihuacán - a place I'd never been before.
I climbed the pyramid of the Moon only because, well... I didn't think I could make it up the pyramid of the sun and its 365 steps. As I found out in my previous visit to Mexico City, no matter how good physical condition you are in, physical exertion is not quite the same when you're at 2000 meters above sea level. At any rate, the view from there was glorious and I just sat atop the pyramid and tried to take everything in.
In the afternoon I went downtown and FINALLY got to visit the Museo de la Revolución Mexicana. I took a few pictures of the view as the sun was going down. Beautiful.
That weekend I also went to the theater ("Confesiones de Mujeres de 30") and to the movies (Stupid, crazy, love). The film was a lot better than I expected it to be, and the play was enjoyable but not something I'd go to again. Then there were five more days of work and before I knew it it was time to go home ...
... except it's not just time to go home but time to make the biggest decision of my life. I go home to my children or I go home, pack my bags and move to Mexico City for good.
I've been bouncing ideas since Wednesday, and I just can't make up my mind. It's a HUGE career opportunity, but won't I regret leaving my children behind? Mexico City is awesome, but will it continue to seem awesome if all I see is concrete and traffic day in and day out? I have a lot of friends in the city, but ... will I even get to see them all that much? Won't I just end up holed up in my apartment, much like I did just last week?
Then there's the money issue. Salary is pretty good, but can I live on that in Mexico City? Do I have to rent my apartment in PV or can I live on my salary without having to? I hate the notion of renting it out, because my apartment looks exactly the way I want it to and I don't want anybody messing it up. Then again, I'd need a place to crash the weekends I do come to visit my kids ... which admittedly won't be very many unless I figure out a way to beat the air fare system.
Too much to consider. And I have to give an answer by tomorrow. Oh, dear.
After three and a half weeks, last night I finally slept in my own bed, with my own pillow (and two human-shaped lumps who were too happy to see me to sleep in their own bed!).
Current Location:

Mexico,

Current Mood:

worried
So, I arrived safe and sound and with plenty of time for me to review my presentation and work on what I need to work on for tomorrow's session... in theory.
Because in practice, after calling home to check on the kids, calling
wizardelfgirl
to
show that I am a case study for ADHD
make plans for tomorrow and plugging in my laptop to charge it, I decided to go get something to eat ... and found out that my hotel is right next to Teatro Insurgentes and that the opening show of "Filomena Marturano" (the theater version of
Marriage Italian-style
) was today - which meant there would be a red carpet, the press would be there, the works.
As if that wasn't bad enough, Juan Ferrara stars!
Side note: even though soap operas are, like, embedded in our nature, I didn't really watch a lot of soaps growing up. The exception were the ones Juan Ferrara starred, and that wasn't because of the plot - although they weren't bad - but because back when I was sixteen Juan Ferrara was the epithome of everything I thought I could want in a man. What can I say, I've always had a thing for older men (and deep voices)

Mostly for
annabtg's benefit, a clip with Juan Ferrara can be seen here. So sorry for the crappy quality, but we're talking about stuff that's almost 20 years old!
Anyway, so I called the theater thinking there wouldn't be any tickets for today, but there were! I got there as Alejandro Camacho, Isaura Espinoza, Daniela Romo and others were there and I even managed to take a few pictures (it's HARD to keep the cool with so many famous people coming at you from all angles). The play was great, and Juan Ferrara's amazing in it. At the end of the show I kind of lingered to see if I could catch him leaving the theater but no such luck.
Now I have to start working on my stuff. Read you all tomorrow.
I'd never get any work done!
Current Location:

Mexico,

Current Mood:

satisfied
I have, like my students used to say "butterflies in my stomachache".
Next time I post, it will be to tell you lot what an amazing time
wizardelfgirl
and I are having. Because, yeah, I'm totally going to just WORK, WORK, WORK.
Tomorrow (or rather, today) I leave for Mexico City for three and a half weeks, in what will be my first assignment in my new job. I'm very excited, but I also feel like I'm utterly unprepared... I mean, how does one pack for three and a half weeks, when it matters what you look like? Normally I will just throw a couple pairs of jeans and a couple t-shirts and that makes do but I'm expected to look presentable and I'll be working at a school for 10 days in a row ... repeating outfits = WEIRD. Not to mention the countless powerpoint presentations (I have bought a clicker!), the tons of new people I'll be meeting, etc, etc, etc.
Current Mood:

chipper
'what if'.
Some of you may know that even though I'm not from Veracruz per se (I was born in Mexico City, but I try not to disclose that fact) I do consider it 'home'; Veracruz was where I grew up, where I went to school and met my closest friends, where I fell in love and ultimately it was the place I vowed never to return to. And no, that is not (I think!) me being my usual drama-queenish self.
I didn't go back there for a very long time, and I think it was not a coincidence that I only returned right after my divorce ... I think deep down I was looking for the wide-eyed little thing that I lost somewhere along the way. I've been returning at least once a year since, and even though I have gotten but glimpses of her I think I understand her a little better now. I am sure I made my life more difficult than it had to be when I left home, but I can't begin to imagine what I'd be like if I had stayed at my mom's and done what was expected of me.
A week ago, after spending five days in Mexico City training for my new job (I'll have to post about that too!), I went to Veracruz and I must say that I had a blast. I got the chance to see my high school classmates and catch up with what's going on with them. We had a nice long lunch (six hours!) and then a few of us went to a club. Then on Sunday I had coffee with two of my friends from middle school and dinner with a guy on whom I had the biggest crush back then. Good times, indeed.
Or as good as they could be expected, considering that at the same time I was out there some asshole decided to break into my apartment. Nothing was taken as the neighbor heard him and chased him off with a gun (AN EFFING GUN!), but I came home on Tuesday to a mess of mud and broken glass, not to mention the contents of my closet in complete disarray. I have started looking at alarm systems and other ways to improve security in the place, but even so I'm a bit paranoid and at night I keep waking up because I "heard" something =/
Next week I'll have to go back to Mexico City, and I'll get to hang out with the amazing
wizardelfgirl
... very much looking forward to that!
So, how are you lot doing?
I've written and rewritten this post several times in my head, but not until today did I actually manage to login to LJ and really *write* it. I've just returned from a few days in Mexico City and in Veracruz and in that time (concretely, in the time I spent on buses and in airports) I got to thinking a lot about me and my life - but mostly about
http://bit.ly/lXYxtM
Si un hombre piropea a una mujer pero ésta no lo pela ¿en realidad es acoso?
Aún recuerdo la primera vez que fuí "molestada" caminando por las calles de la ciudad donde crecí. No puedo haber tenido más de 13 años, y traía puestos los pantalones de mezclilla y la camiseta holgada que me caracterizaban a esa edad. Iba rumbo a la farmacia, a un par de cuadras de la casa de mis abuelos, y un idiota me soltó una peladez que bien pudiera haber salido del número más reciente del libro vaquero.
Me sentí furiosa con él al principio, pero al final del día era conmigo con quien estaba molesta; me daba rabia mi impotencia, el haber tenido que aguantarme y ya... me sentía también un poquito culpable, porque igual si no hubiera querido salir sola, o si no hubiera salido y punto, me podría haber ahorrado el mal rato. Las veces siguientes tal vez cambiaría el lugar, cambiaría el momento y cambiaría el sujeto en cuestión, pero el mal sabor de boca permanecía.
Algunos años después, me pasó algo bastante curioso. Salía de la disco ya tarde y de camino a mi casa un tipo empezó a seguirme, profiriendo toda sarta de taradeces acerca de mi apariencia. En una experiencia casi extracorporal, me detuve en seco y lo encaré "¿qué carajos quieres?". Seguramente me contestó alguna otra babosada, porque acto seguido lo agarré a bolsazos y le recomendé encarecidamente que fuera a acosar a la más anciana de su casa. No es que crea que lo que hice fué correcto ó siquiera buena idea, pero ya estaba bastante harta de sentirme incómoda por culpa de cualquiera y de alguna manera tenía que sacar lo que sentía.
A partir de ese momento, me ví teniendo el control de la situación. Y no es que me dedicase a bolsear a cuanto cretino se me atravesara en el camino (I wish!), pero fué liberador pensar que no necesitaba a nadie que me "defendiera". Aun ahora, si bien me ha tocado aún el piropeo ocasional, me parece a mí que me sucede con menos frecuencia - o al menos no me molesta tanto.
¿Será entonces que los 'piropeadores' perciben el miedo ó la inseguridad en algunas mujeres y es a esas a quienes atosigan? ¿Será que en realidad la clave no está en lograr que los hombres cambien su actitud hacia las mujeres, sino la manera en como las mujeres responden a ella? Es muy posible que ahí esté el problema, y no sólo en la calle sino también en casa. Para pronto, un ejemplo:
Apenas unos pocos años después del incidente de los bolsazos, empecé a usar faldas cortas
(y sí, aunque usted no lo crea, en algún momento de mi vida usé algo más que sólo jeans)
. No era nada escandaloso, porque en mi familia eran ultra-conservadores y no me hubieran permitido ningún atuendo remotamente provocativo; las falditas en cuestion me granjearon las atenciones de un cierto individuo y algún tiempo más tarde empezamos a salir. Curiosamente, en cuanto empezamos a hacerlo ¡zaz! las faldas fueron objeto non grato: "¿qué quieres, que se te queden viendo?" "¡cámbiate, o no salimos!" ... vaya, Sor Juana ya lo había visto venir desde 400 años antes. No se trata de generalizar, de ninguna manera, pero si ni los hombres en los que confiamos, los que están más cerca de nosotros tampoco pueden vernos más allá de la ropa que traemos o nuestra apariencia ... pues entonces el problema no necesariamente está donde creemos ¿o si?
Como decía Nino Canún ¿y usted, que opina?
En respuesta a:


Hope you lot are doing well.
As most of you may NOT have noticed, my journal is no longer friends only. The friends-only HP banner is gone as is my Hugh Laurie, Kiefer Sutherland, Patrick Dempsey header and I'm working of turning my entries into public. (Yes, I saw a button somewhere that said something about taking mass action on entries... I just like the idea of rereading everything I wrote and possibly just shaking my head in disbelief). The reasons for my going public again are probably not worth any space in this entry, so let's just leave it as "I needed to change things up a bit". I will be going over the list of communities I'm a member of and probably delete most of those - in two years my interests have changed a lot and I simply do not have the time or the patience for certain things. I may cut deleted journals, but I won't be doing it without at least dropping a line.
Current Mood:

content


After several weeks of comings and goings, of misgivings and second guessings and one very, very, very long 'information' talk ...

I'M OFFICIALLY THE OWNER OF AN APARTMENT!!!


It's a very small apartment on a dodgy street in a nice neighborhood but ... it's my own! Well, technically it's the bank's right now but with a little bit of luck, in 11 years or so it will be mine, mine, mine. I'm very excited about it.

It needs a lot of work, obviously, so I will spend the weekend sorting out movers, electricians, plumbers, painters and what not but I'm still very happy. I haven't figured out a color scheme yet but I'm hoping that it will come to me as soon as I walk into the store. Or else.
(and that's coming only 10 years late, go me!)


It probably doesn't help that I don't really have a TV but rather watch it on my computer monitor. This means that if I am working on the computer, I can't have the TV on and vice versa.

So I was very shocked when I channel-surfed the other day and I encountered gems like "16 and pregnant" and "teen mom" or Steve Wilkos's show on "I'm 15 and I love sex". I mean, I work with teenagers and so I can't say that I shock easily but ... seriously? I guess I should be glad that all my 12-year-old wants to talk about is Earth's Mightiest Heroes.
Even though I've had cable for a year now I have to say that's the $300 least taken advantage of in the history of ever. Save for the NFL games on the weekend, I don't have much time to watch TV at all.
Current Mood:

confused
Current Mood:

dorky